"KIT's mechanical systems engineers complete advanced technology."
Fostering creative talent who can solve problems
Leading to convergence with other disciplines, including electronic engineering
The department of mechanical systems engineering fosters creative mechanical systems engineers who can solve real world engineering problems based on their engineering knowledge.
The department aims to nurture on-site talents with problem-solving skills in future high-tech industries by presenting research and education on mechanical design and control technology, convergence technology, and system engineering that is needed to design, control, and integrate machines such as semiconductor equipment, intelligent robot, intelligent automobile, and microelectromechanical systems(MEMS).
In particular, it is developing system integration technology suitable for the globalization era by fostering professional engineers with practical design analysis capability using various convergence technology and engineering tools.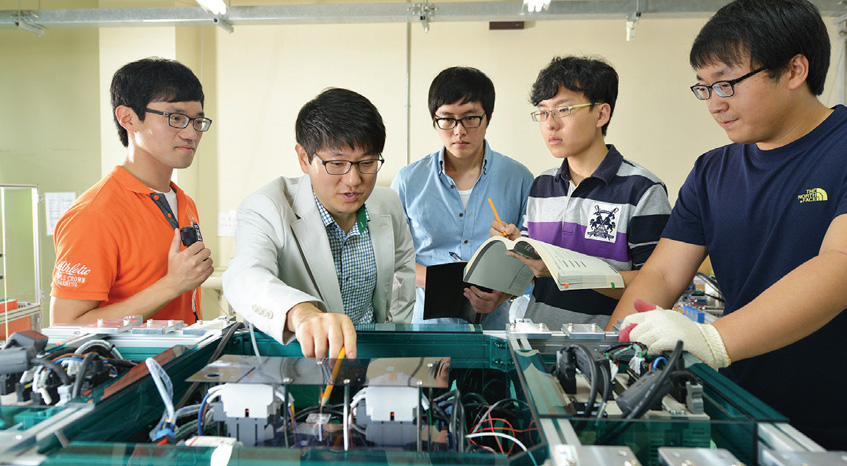 Careers after graduation
Machine-related research and production sectors of large corporation, multidisciplinary convergence research and development such IT·BT·NT, aerospace, defense research institutes, national research center such as KIMM
Sources of pride
Joined the local university specialization project (CK-I) (July 2014)
Selected as specialized quality department (October 2014)
- The only selected department out of the 60 in the nation (supported by 1.2 billion won for five years)
Selected as 'excellent' project team in the mid-term evaluation of CK-I in July 2016
Free support for language training, including supporting 100 students for TOEIC per year, as of 2017
- Provides more than 70 students with overseas training and tour opportunities annually, free support engineering S/W intensive courses, and participation in domestic and overseas competitions