"Chem is try! Chemistry is a challenge to open tomorrow"
A discipline directly linked to human welfare such as advanced materials and energy
Students can enter into various fields including biotechnology and energy materials
Applied chemistry defines structure and properties of materials, transforms materials, and explores creation process of new materials. It is a critical scientific field that is directly linked to human welfare such as advanced materials, energy, electronics, biotechnology, medicine, and environment. Thus, core scientific technology of future industries, including nanoscience, biotechnology, and renewable energy, has been developed on the basis of chemistry.
The department of applied chemistry aims to nurture excellent chemistry experts with creativity and application competence to contribute to national and regional industries.
The excellent faculty performs education and research to foster creative, professional chemistry talent based on their expertise in organic/polymer chemistry, physical chemistry, inorganic/supramolecular chemistry, biochemistry, analytical/electrochemistry, and material/nano chemistry.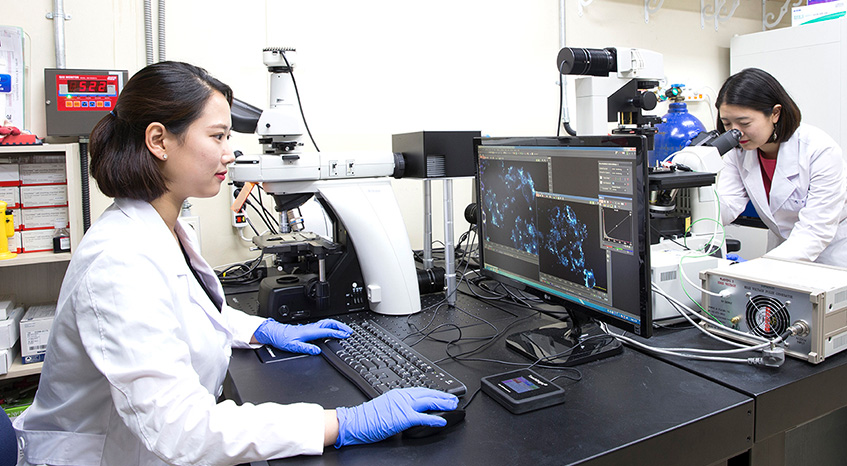 Careers after graduation
National and public research institutes related to chemical technology such as chemical materials, medicine and pharmacy, biotechnology, fine chemistry, electronic materials, energy materials, environment-friendly materials, corporate research institutes, domestic or overseas graduate schools
Sources of pride
Joined in the New University for Regional Innovation (NURI) (2005 - 2008)
Selected as the best chemistry group by the Korean Council for University Education (2007)
Joined the project of talent development for leading business in the metropolitan economic bloc (2009 - 2012)
Joined the talent training project for specializing green chemical materials (2014 - 2016)